The beginning of our experiment is made by the headlines around the satirist and moderator Jan Böhmermann, who decided in summer 2019 to run for the chairmanship of the social democrats. The unique thing about it: the action on the part of the satirist initially seems to be a display of the SPD, which was losing more and more popularity at the time. Unexpectedly, however, the headlines don't stop. It is becoming increasingly clear that the 40-year-old is aiming for a serious candidacy. The social networks are flooded with laughter, criticism, encouragement and discussions about the "neustart19" campaign.

This flood of sustained interest in Jan Böhmermann's candidacy for chairmanship of the SPD did not pass us by either. The proposal of our content creation team to create our own campaign on the occasion of Jan Böhmermann's candidacy was very popular and was implemented in the form of an advertisement for the Sixt car rental company in no time at all.
"NEO MAGAZIN ROYALE"
Satirist Böhmermann: "I want to become  chairman of the SPD"
He wants to become  chairman of the political party SPD. This is what Jan Böhmermann has announced in the latest episode of"Neo Magazin Royale".
Faz, 30.08.2019
Frankfurter Allgemeine Zeitung, 30.08.2019
What is so special about Sixt advertising?
First of all, the question arises why we decided in favor of a Sixt campaign when developing a case study. Sixt is one of the few companies that uses trend topics specifically for communication and services. Very few of us have pushed away one of Sixt's numerous advertisements without a little smile. But how does Sixt manage to repeatedly create motifs and advertisements that hit the nerve of political discussions and still communicate a clear brand message?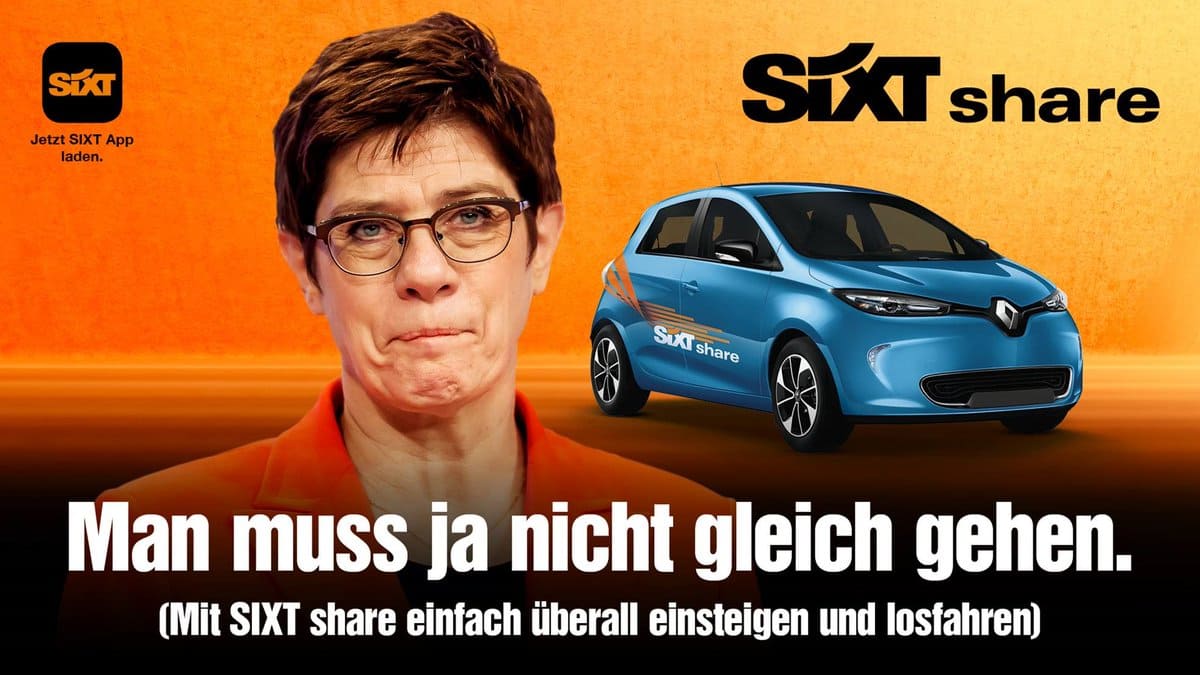 Sixt relies on several important principles when developing its satire campaigns: the advertisements are quick and easy to understand by the relevant target group, they are highly topical, authentic and always communicate a clear message. While these points may seem obvious and simple at first, they are difficult to master. At a time when trends and discussions vary by the hour, many companies fail to make relevant contributions to this fast-moving world. Rather, advertisements seem out of place and downright ridiculous when they lag behind the public discussion. Many contributions seem like a dubious attempt to keep a dusty brand alive in an artificial way.

Sixt combines messages regarding its products and services with current events in an ambiguously playful way. No more and no less. It is precisely this real and ambiguous message that ensures an authentic and genuine contribution. There is no attempt at any time to convey political messages or views. It is only puns and not serious allusions to current events in the middle of an advertisement that make Sixt's advertising so entertaining and yet relevant in terms of advertising.
generating reach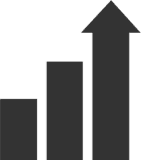 reach through virality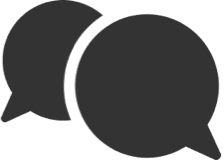 the "Sixt-language"
Our case study is based on the fact that there is no range in advance on the channels used. Any reach must be generated through the campaign.
The campaign must be able to generate reach through the attention created in the media. It has to give people reasons to share the campaign and generate organic interaction.
How does Sixt manage to create both a political message and brand-building communication through targeted slogans and comments on world events?
Our creation
In our implementation of a Sixt campaign, too, the authenticity of the message comes first. Like the designers at Sixt, we too do not rely on bombastic imagery. Rather, the focus is only on the message and the advertised product.

The message of our ad is clear and accessible to everyone: Böhmermann cannot spontaneously apply for the SPD chairmanship, but at Sixt you can easily choose red at any time!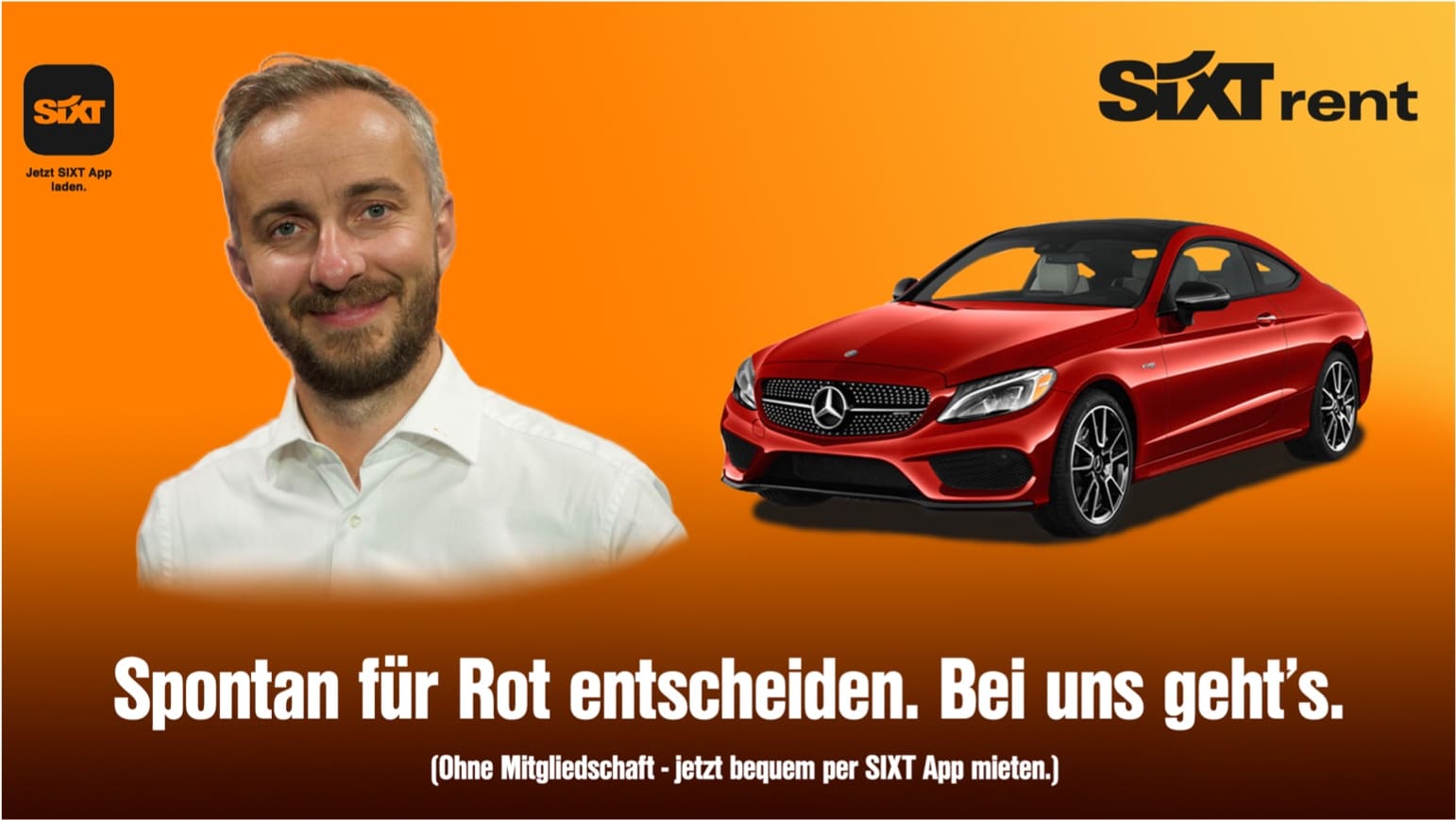 the Sixt-freedom
Why is a campaign going "viral"?
Our ideas were put into words and our ad was developed. However, there was still a big question mark to answer. We did not plan any advertising budget for our case study and did not use an existing range. So how should we generate strong reach from 0 to 100?
We have used "newsjacking" as the instrument of our choice to generate reach - similar to Sixt. Here, contributions are created that refer to currently heavily discussed and much shared events. In contrast to Sixt or our campaign, the contributions don't always have to be funny, playful or ironic. The instrument of "newsjacking" is also often used by experts in certain specialist areas in order to distinguish themselves as experts through a technical discussion of current events and to gain reach. They answer questions that are raised by the events or help clear up unexplained contributions. It is also possible to only express your own opinions and take a stand. However, at no time should it be overlooked that in addition to the actual messages, brand messages should also be communicated and products and services should be advertised. This is the only difference between newsjacking and simply participating in public debate.
newsjacking
"the practice of taking advantage of current events or news stories in such a way as to promote or advertise one's product or brand."

We have cleverly integrated our ad into the flow of other posts and published it there. As mentioned before, we didn't use any range of our own. In order to still generate coverage, we have deliberately placed our post as a comment on other posts. Due to the pun and the amusing presentation of Sixt's service, our post was promptly picked up and shared by other users, which made the post "viral". When operating newsjacking, however, it is important to note that the articles created have an extremely short lifespan.

"Newsjacking" thrives on creating short-term answers and allusions to short-term events. In this way, a lot of range can be generated quickly. But this also evaporates quickly and ads are quickly forgotten. The potential to fail is also very great here. Unsuitable contributions can quickly end in malice and ridicule and cause negative feedback. In summary, it remains to be said: only those who really have something to say should also speak and "newsjacking" should not be operated as a complete advertising strategy, but rather as a supplementary branding strategy.